This post is sponsored by Seventh Generation and Her Campus Media. All opinions are my own. Thank you for supporting the brands that make Lots of Sass possible!
Happy Monday, friends! I hope y'all had a lovely weekend and have started this holiday week off on a great foot. As I mentioned the other day, I will be traveling for Thanksgiving so this week has started with me getting tons of laundry and cleaning done so I can pack and come home to a clean home when I return. Am I the only person that has to clean like crazy before they leave town? I always get so nervous that I will return too late the night before work or something important and then, won't be able to get myself together. Another thing I do is take out my clothes and meal plan for the next week. This is something I learned to do very early on when I started college and it has stuck with me over the past few years. What are y'alls must-do tasks before leaving town? Let me know in the comments so I don't feel alone.
So a few months ago, I mentioned in one my posts that I wanted to start transitioning to cleaner products because 1. It is better for me (semi-sensitive skin) and 2. I wanted to be more aware of what I was putting in my body. One of the first things I transitioned was my feminine products AKA tampons to Seventh Generation Free and Clear Organic Tampons. What I was searching for most in organic feminine products was dye free and fragrance free, because honestly y'all, I don't need any dyes or added fragrances down there. So like anything else I need to know, I went straight to Google and searched for exactly that and was so excited to see that Seventh Generation made tampons just like what I was looking for. For the past two years, I have used their dish detergent and was so pleased with how gentle it was on my hands and dishes. So obviously y'all, I headed right to Target and grabbed 4 boxes so I would be stocked up. As I was reading the box and trying to educate myself a little more on why organic feminine products were so important, here were some other things I learned:
Seventh Generation's Organic Cotton Tampons has a new smooth, BPA-free plastic applicator that is designed for your comfort.

The comfort applicator is made with 95% plant-based materials, rather than petroleum-based sources.

Our Free & Clear, Certified Organic Cotton Tampons are hypoallergenic and made for your most sensitive skin with no added fragrances.

The Certified Organic Cotton provides you with effective leak protection.

Seventh Generation Organic Cotton Tampons with Comfort Applicators are available in regular and super absorbency and can be found at your local Target.
Out of those, being hypoallergenic and made with mostly plant-based materials were the two that won me. I personally felt it was important to invest in organic feminine products primarily to avoid add breakouts and rashes, that could potentially come from feminine products that contain dyes and added fragrances, that I didn't feel like I needed anyway. I love that Seventh Generation believes in a woman's right to know what is in her feminine care products, and advocates for ingredient disclosure in all feminine products. In addition, being plant-based versus petroleum-based is more eco-friendly and overall better for our planet. Altogether, I have been using Seventh Generation Free and Clear Organic Tampons for 6+ months and have loved them more than I ever thought I could. Are ya'll looking to transition to more feminine organic products? I totally suggest to start with Seventh Generation Free and Clear Organic Tampons! Make sure to stop by your local Target and snag a few boxes for yourself.
Want to see more from Seventh Generation? Twitter | Facebook | Instagram
Have a lovely day friends! See ya tomorrow 🙂 -xo, Azanique <3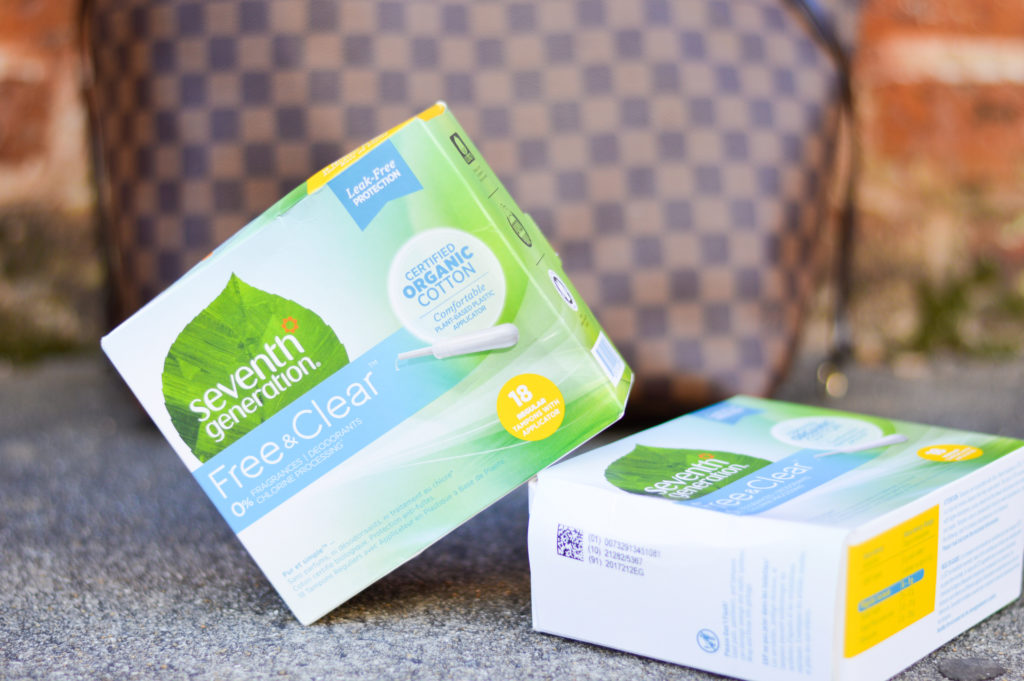 SaveSave
SaveSave